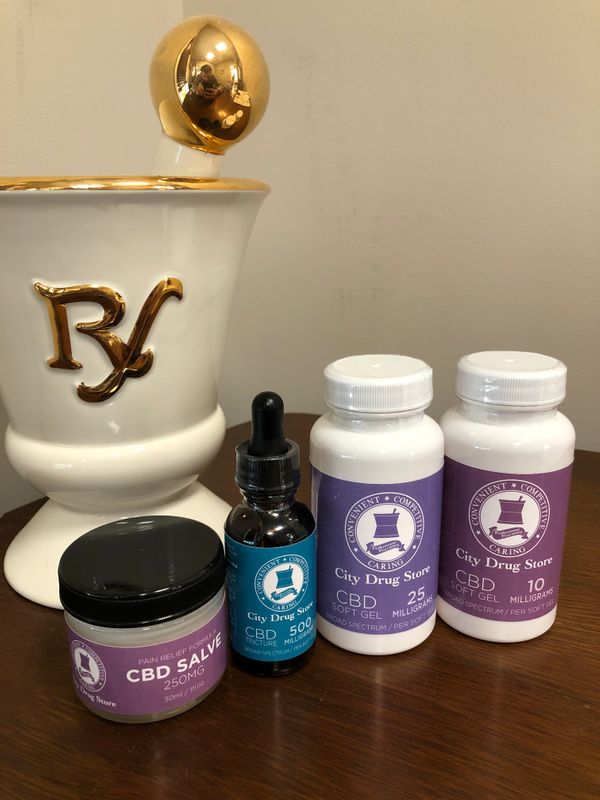 City Drug Store is now offering its own line of CBD products!
The products, from White Coat Nutra, are available as:
10 mg oral softgels
25 mg oral softgels
250 mg topical salve
500 mg oral tincture
White Coat Nutra CBD products are American-grown, use 100% Natural
ingredients, 100% organically grown carrier oils and are 100% vegan,
100% gluten-free, toxin free, no fillers added, and Non-GMO.
What is CBD?
CBD is an abbreviation for Cannabidiol, a chemical compound found
naturally in the cannabis plant. It is not mind altering like
marijuana. CBD will not make you high. CBD supports the
Endocannabinoid system. This system is involved in almost all brain
and body functions, from our ability to handle pain, stress and anxiety
to our mobility and muscle health. Importantly, CBD has been found
to be well-tolerated and absent of adverse effects at doses up to 600
MG/day.
CBD products have the potential to interact with numerous prescription
medications. It is important to use quality CBD products under the
medical supervison of your physician and pharmacist. Call the
pharmacy to speak with one of our pharmacists about CBD and if it is
right for you.
The statements regarding CBD products have not been evaluated by the
Food and Drug Administration. These CBD products are not intended to
diagnose, treat, cure or prevent any disease. Results from these CBD
products may vary. The content on the page is meant for
informational purposes only and should not be considered medical
advice.